---
I am very excited to introduce Greg and his team at Emily Maids to you. Due to the possibility of relocation for my husband's work, we decided to begin marketing the business to sell; we felt that while we may be able to run Dial-A-Maid from a different city, that it would be better run by someone close by to the customers that we care for. I was both happy and relieved whenever Greg contacted me and said that he was interested in taking on the Dial-A-Maid customers and staff into his existing business!  I have known Greg over the years that I have owned Dial-A-Maid; we have helped each other out on more than one occasion when the other is over booked, and I was always confident when referring a new lead to him that I did not have the availability to service that they would be well taken care of by Greg and his staff.
My husband Ryan and I purchased Dial-A-Maid from the previous owner, Kristy Bean, in June of 2008.  Kristy actually began the company by doing the cleaning herself, about three or four years before we purchased the business from her. She had a background in web design, but had a desire to be self-employed. So she created her own website, hired someone to create the very cute logo that we still use, and began cleaning!  As her customer base grew, she hired someone to help her clean the customers' homes, and then eventually she hired another lady to take her place cleaning, so she could devote more time to customer service and growing the business. Kristy got married in the spring of 2008, and her husband owned a landscaping business at the time. He was spending most of his time out in the field, and had a great need for someone to run the office end of things. They decided to sell Dial-A-Maid and just focus their efforts on his landscaping business. So Kristy posted an ad on Craigslist advertising the business for sale. My husband Ryan called me from work one day, very excited about this ad he had seen for a business for sale on Craigslist and asked me to check it out.  Fortunately we were the first ones to call!
I worked in the fashion industry before my children were born, so Dial-A-Maid was very different from my previous work experience. But I had always worked for small companies in the fashion industry, so I have enjoyed being a hands on owner (I've been my own office staff the whole time!) so that I could work closely with the customers and employees. Whenever my husband first called me and asked me to check out the ad, he suggested that maybe it would be something that I would enjoy doing and still be able to be home with our son. He was two and our only child at the time, now he is eight and our daughter is five (Perhaps you've heard them in the background from time to time while on the phone with me, or maybe you've just heard the Sponge Bob Squarepants theme song). It has definitely been a learning experience, in taking on being business owners for the first time for my husband and I, in taking on a very different career for me, and in taking my children along for the ride since so much of their early years have been involved with Dial-A-Maid (I hope that they have learned some things along the way as well!).
I cannot tell you how much I have enjoyed working with each of you, and how much I appreciate your loyalty and support over these last six years; you have been a blessing to my family, as well as to the employees families. Thank you, thank you, thank you again for your business; I hope that you will enjoy getting to know and working with Greg and the Emily Maids team!
by Julie Matthews
---
---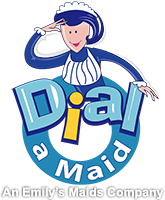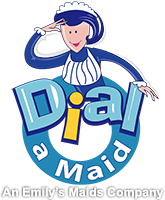 GET UPDATES
No charge. Unsubscribe anytime.